'37 Heaven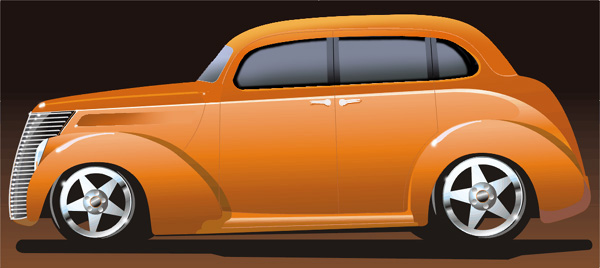 Art's 37 Ford Fordor. As it is, as it was and as it shall be.
Sectioned, chopped, B and C pillars modified, and painted up in orange and tangerine. With big wheels, smooth running boards and a juiced up 302 to give it some go.
As it's been
First problem to was to get it off the frame. No easy task working alone in the driveway, but somehow I managed to separate the frame from the body.

The guys at the body shop helped by straightening out a lot of dents, smoothing out the gas filler hole and the tail lights, and prepping it for further modification.

Below, the frame's been sandblasted and primered, ready to weld in the new crossmember and other components for the Mustang II independent front suspension (IFS) and rear springs. All on the cheap. Mostly.
A memorable day when I pulled the frame out from under the body. I'm sure there's an easier way, but I don't know it. But enough of me, call or email the Imaginist today to get your concept vehicle sketched up and ready for the shop. We can have a lot of fun putting your dream on wheels.